covid
The Memo: a16z invests in Iceland, Kría unveiled, and Covid and Startups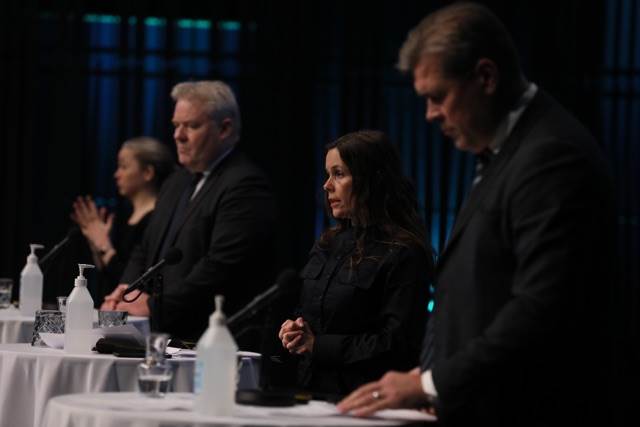 This post is from The Memo – our regular newsletter with commentary and analysis on the most important things in Icelandic startups, venture, and tech. You can sign up here. Image credit: Government.is
a16z's first investment in the Nordics is in an Icelandic/Finnish gaming company, and venture initiative unveiled
"Mainframe Industries, a pan-Nordic MMO studio formed in April 2019 to develop cloud-native games, announced today a $8.2M (€7.6) Series A round led by Andreessen Horowitz (a16z) with additional investment from Riot Games. Existing investors Maki.vc, Play Ventures, Sisu Game Ventures, and Crowberry Capital all joined the Series A round."
A big round, from big investors. I posted about it on my Facebook and tried to explain the size of deal, because as most people that follow startups and venture know, it's not only about the money, it's also about the investors (and the brand). With a16z – one of the Valley's most coveted and high-profile venture capital investors – picking an Icelandic (and Finnish) company to invest in as their first entry into the Nordics is huge for the ecosystem.
And the day after Mainframe's announcement, the ministry for innovation released the bill that will create Kría – the Icelandic Venture Initiative – to public consultation. The timing couldn't have been better (not counting coronavirus, obviously), as the broader case for Kría is that a local, internationally connected venture capital industry is key for growth in the IP-intensive industries in Iceland, and Mainframe just became an example: Crowberry invested in them previously, and now, less than a year later, they've succeeded in bringing one of the most selective VC's to Iceland.
(Note: I'm very well aware that of course it's the founders that are to receive the credit for doing all of the work and that there isn't a direct causation relationship between an Icelandic investor investing and a16z coming in. However, it can (and possibly does) make things easier when the first round of investment can be gotten from a more local player).
Corona, startups, and the government's actions
On Saturday, the leaders of the government – Katrín Jakobsdóttir, Prime Minister; Bjarni Benediktsson, minister of finance and economy; and Sigurður Ingi Jóhannsson, minister of transport and local government announced the first phase of economic response to mitigate the impact of the Covid-19 outbreak.
The biggest things for companies were unemployment benefits for part time workers, deferred tax payments, and government-backed bridge loans:
"In order to protect jobs and employment relationships between Icelandic workers and their employers during these extraordinary times, the Government of Iceland has committed to allowing part-time workers to claim up to 75 per cent of unemployment benefits, to avoid job losses. […]

Companies will be given the opportunity to postpone the payment of taxes until next year to improve liquidity in business operations. Hotel taxes will be abolished until the end of 2021." From Government.is – about government economic action due to Covid
These measures are obviously and very understandably designed to support and save the countless businesses that are facing massive revenue drops due to almost a complete stop in tourism, people being stuck in their homes, and so forth. However, it's worth thinking about – especially in a newsletter about startups – what this means for startups. I've been thinking about it a bit over the weekend, and what follows is my train of thought. (Remember that I'm not a trained economist and this analysis is still being developed. Please hit reply and tell me how I'm wrong (or right) – I think it could be a very interesting topics.)
Overall, the measures that were announced don't look like a fit for most startups (at first glance, at least). The deferred taxes is obviously a nice cashflow thing, but in the big picture, funded startups probably have plans that include paying their taxes (which are mostly payroll taxes, and paying taxes on behalf of their employees) on time.
The 75% option, allowing companies to lower the percentage an employee works for the company, with the government topping up the salary up to 75% of full salary, also doesn't sound very useful – it's an option for companies where there's less to do. For startups, that's probably not the case. (Note: Maybe it is, please let me know if this is something your startup will use). Early stage startup costs are mostly fixed costs: salaries. Salaries of the people that are researching, discovering, designing and building the product that is to be sold. The value of lowering an employee's contribution rate to less than 100% doesn't look like very much to startups, or even a likely scenario. It would make more sense for more marginal-cost based staffing, that are related to servicing customers (which might be fewer of now during the crisis). In any case, not a great fit.
The bridge loan part is – well – a loan. And, if it's not a convertible, I don't see early stage startups getting loans. Especially when the government doesn't step in to back the loan unless the company has lost more than 40% of its revenue. Early stage startups often don't have any revenue, which makes this not really usable. And I'm not even sure it should be usable.
From Marginal Revolution on similar measures in the US:
"The bridge loans might work especially poorly for start-ups.  Yes, StubHub or some company like that is around for the long run, and if the bridge loans can keep them up and running until concerts return, so much the better.  But what about the eighty wanna-bees next in line, most of whom are likely to fail?  Do they too get bridge loans?  (Do note the ecosystem as a whole is yielding positive value.)  The market itself chose the venture capital financing form for those entities, not debt.  And yet now the government is stepping in and propping them up with debt, even though we know virtually all of them are likely to fail (even pre-coronavirus that was the case).  You might think "well, we will know not to do that."  But on what legal basis would those other "likely to fail start-ups" be excluded from the bridge loans?"From Marginal Revolution
I think the point Tyler makes there is also a very good one. Most startups fail, without the "help" of a pandemic or other crisis. So startups failing during a crisis like we face now doesn't necessarily mean that they failed because of the crisis.  So the question is: Should the government do anything to save companies that might be going under? And are there circumstances where the Covid-crisis is having the type of impact on startups that would warrant some government action, but the previously discussed actions don't help? If so, which? Would love your thoughts on this.
In Sifted's overview of government support in Europe as a response to Covid, the same or similar actions seem to be the case in most places: deferred tax payments, government-backed liquidity, unemployment expansion. But no specific actions for early stage startups. Maybe because they don't need it, or saving them isn't that impactful in the big picture. What do you think? Let me know.
Do you like Northstack? Support the ongoing coverage, analysis and commentary on Icelandic startups, venture capital and tech, with a small monthly donation. Click here.