People
Nordic Women in Tech Awards 2023 winners announced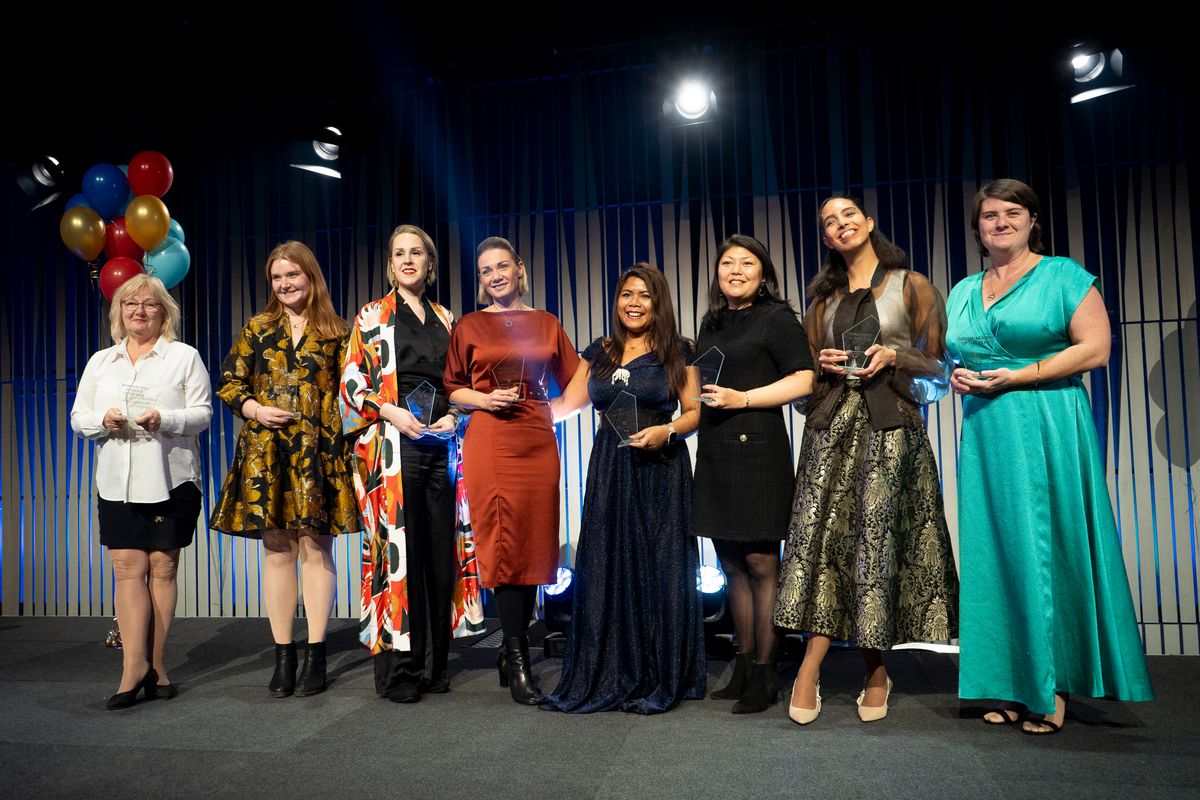 The Nordic Women in Tech Awards announced the winners of its annual awards program, during a gala event hosted at Harpa on November 9th. The annual awards program honors women leaders and emerging leaders in technology across the Nordic countries culminating in the gala event.
The program and event were co-organised by founding partner WonderCoders in Denmark, as well as Women In Tech Gothenburg, Women in Tech Oslo, Girls in Tech Nordics, Danish Startup Group, Politiken, and this year's local host partner WomenTechIceland.
"Iceland really stepped up to show its support for our awards program, which was amplified by the exciting atmosphere Harpa Conference and Concert Center created, and our guests elevated with their engaged and celebratory presence. I want to thank this year's host partner, WomenTechIceland, for helping to create such an amazing gala event, along with our many Pan-Nordic partners, volunteers, and sponsors," said Plamena Cherneva, Founder of Nordic Women In Tech Awards.
Among the 260 guests in attendance were First Lady of Iceland, Eliza Reid, and Minister of Higher Education, Science and Innovation, Áslaug Arna Sigurbjörnsdóttir, who kicked off the event with two compelling and thought-provoking keynotes.

Safa Jemai, CEO and Founder of Víkonnekt, who won the Rising Star of the Year award said, "Winning the Nordic Women in Tech for the Rising Star category and on behalf of Iceland was such a huge moment. I am very grateful for all the efforts that our team at Víkonnekt has put to make our work successful and this award goes also to them as recognition for their hard work. Women in Tech Awards is an opportunity to gather successful and intelligent women in the Nordics that have been contributing to the tech community. We need such role models to inspire the next generation and we are indeed doing that."
The 2023 winners are:
Jonah Andersson, Developer, Cloud & DevOps Engineer Lead, Senior Azure Consultant, Solidify, Developer of the year
Jennifer Montague, Vice President of Growth, Onomondo, Digital leader of the year
Chisom Udeze, CEO, Diversify, Diversity leader of the year
Marianne Andersen, CEO, High5Girls, Women in Tech Advocate of the year
Annu Nieminen, CEO, The Upright Project, Entrepreneur of the year
Laura McGrath, Founder & CEO, Lola&Lykke®, Initiative of the year
Tove Mylläri, Team Lead Experiments & Collaborations at Finnish Broadcasting Company - Yle, Innovator of the year
Joo Sundström, CEO, Vera Invest, Investor of the year
Ragnhild Hånde, Senior Software Developer, Forte Digital, Mentor of the year
Safa Jemai, CEO and Founder, Víkonnekt, Rising star of the year
Jenifer Clausell Tormos, Founder, Develop Diverse, The 2023 Liva Echwald Award