The Memo
Crowberry Capital and what it means for the Icelandic Ecosystem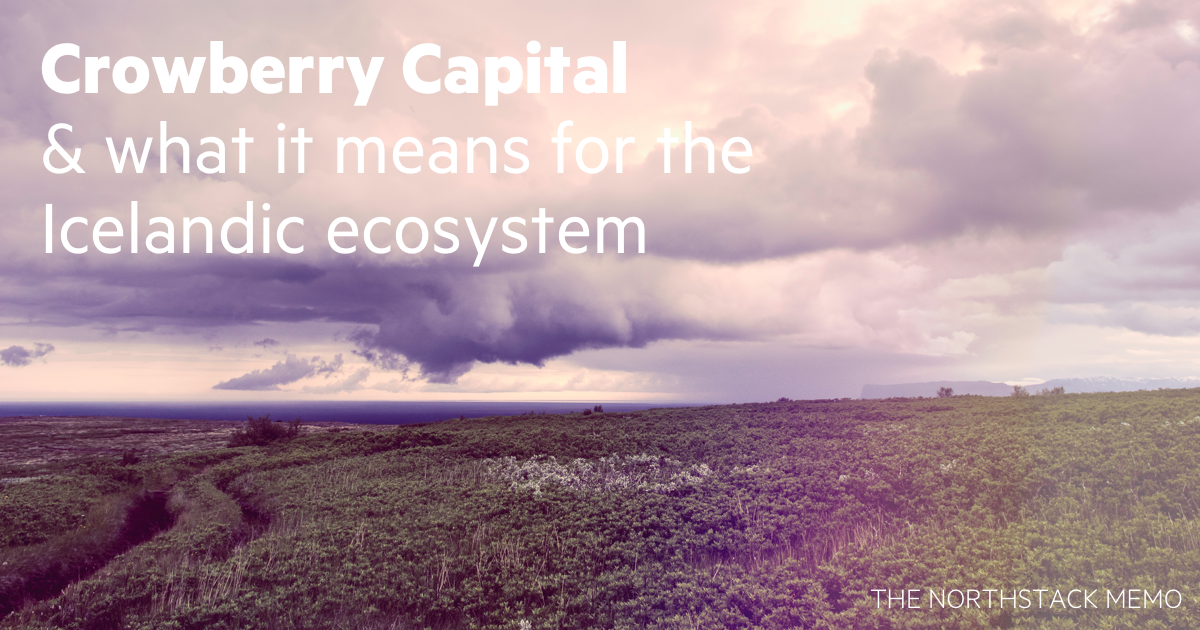 This post is from the Northstack Memo, our newsletter and commentary on recent happenings in the Icelandic startup ecosystem, written by @kiddiarni.
One more VC fund in the mix, one step closer to an industry
With the announcement last week we have four private venture capital firms in Iceland. These are Eyrir Sprotar, Frumtak, Brunnur, and Crowberry. In addition, we have NSA Ventures, the evergreen, government owned venture fund.
More importantly, this addition doubles the number of VC funds actively investing in new opportunities. As many already know, Frumtak and Eyrir Sprotar are fully deployed. NSA Ventures need exits, and cash, to invest in more companies.
With the addition of Crowberry, we're one step closer to a VC "industry" in Iceland. (A side-question: when does a group of people doing similar thing constitute an industry?). Maybe we'll see some sort of VC association formed in the coming quarters (IVCA does have a nice ring to it).
First women-only fund in Iceland
It's hard to write about the founding of Crowberry without mentioning the obvious. The fund is the first female-only VC fund in Iceland, which makes the Icelandic VC industry probably the most gender diverse in the world. (Haven't researched that, tell me if I'm wrong). Out of the four funds, two have only male GP's, one is a mix and one is only female. In addition, NSA's CEO is female. That means the gender ratio in Icelandic private VC management firms, 44% ( are women and 56% are men. A tiny sample, but good news nonetheless.
The fundraising landscape sounds ripe
Aside from the news itself, there are two interesting facts about Crowberry Capital.
First, half of the fund's shareholders, and 20% of the total capital in the fund, is from individuals. That's new in Icelandic VC. (Sidenote: Eyrir Sprotar is 1/3rd owned by Eyrir Invest which is owned by individuals, but the owners of Eyrir are active in its management). Apart from that it's mostly pension funds. (I'll do a detailed, updated LP analysis later when all documents have become public). This suggests that the LP market is growing, at least somewhat. Maybe we see an insurance company investing in VC next (as I discussed in my previous analysis of the LP environment).
Second, the founding trio of Crowberry left their posts at NSA Ventures in December 2016. They closed the fund mid July – just over half a year later. That is a (very) quick turnaround time. It suggests that Iceland's main LP's – the pension funds – still see at least some glimmer of hope in this asset class. I hope that glimmer will stay alive for the next quarters, because there are two management firms (Frumtak and Eyrir) that will need to raise a new fund if they plan to continue and grow.
We can expect 20-25 fresh investments in total
Based on what we know now, we can expect somewhere between 20 and 25 fresh investments, just from the two active funds (Brunnur and Crowberry).
Brunnur aims at investing in 10-15 companies, and has invested in four. Crowberry sets their sights at 15. That means that these two funds will invest in 20-25 companies during their active years, which will be the next 3-5 years.
What do you think about the newest addition to our VC landscape? What effect will it have on the startup scene, & the VC industry? Message me with your thoughts.